Our Story
How We Met
Seven years ago, on what seemed like just another beautiful day in June, Kat put on her blue Northwood Pizza t-shirt and Josh hydrated, preparing for a bike excursion with the boys. Little did they know that in just a few hours, their lives would change forever. While Kat was working, slinging pizza and beer like no other, in walked Josh and their mutual friend, Ian. Ian introduced the two as they ordered pizza and "golden soda," the two exchanged a few words. Kat remembers looking at Josh wondering why he was so intriguing to her…at the time she was drawn to dudes with long hair and no facial hair…Josh had short hair and a neck beard.
A couple of days later, the two ran into each other again at a mutual friend's house party. Josh was in desperate need of some assistance at the beer pong table and saw great potential in Kat…so he recruited her. The two ended up running the table the entire evening. Josh remembers looking at Kat thinking "wow, I have always wanted to marry an athlete, I am in love". The two bonded for the rest of the evening…
The next morning Kat was wondering if this mystery man would call her, but not just for her excellent beer pong skills, but perhaps to take her out on a date. It was around 11am the next day that she received a text message from "Josh – neck beard." The text message included a picture of his polka-dot swim trunks and long toes with a pool in the distance. It read, "where you at on a fine day like this." The rest is history…
How He Asked
How He Asked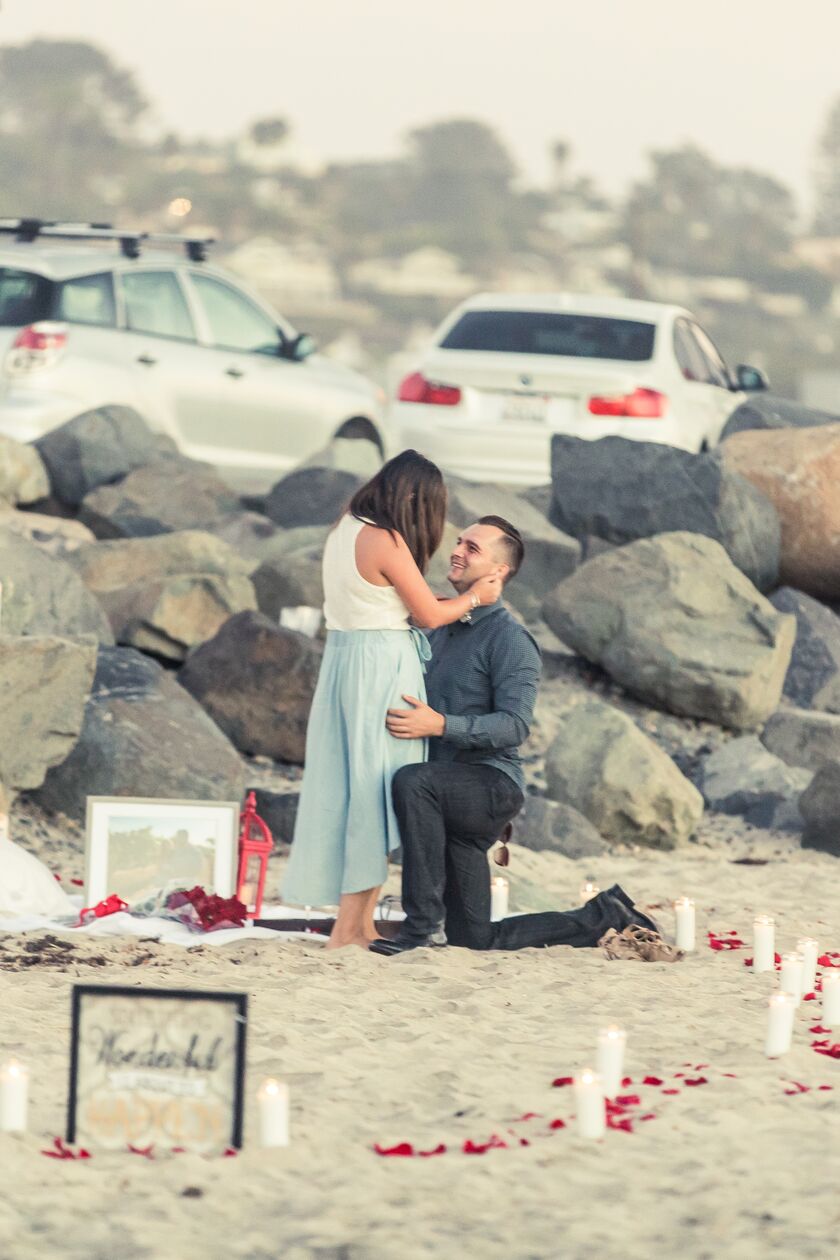 It was just another Monday morning on September 26, 2016, a few days before the couples planned 5 year anniversary trip. Josh texted Kat with news of a reservation he made for that upcoming Saturday. It was at a four-dollar sign restaurant in Cardiff By the Sea called Pacific Coast Grill. This was very out of character! Immediately, Kat began to exercise an art she is quite good at, the art of overthinking. She asked Josh why he made a reservation there when they had a weekend planned in Catalina the next week? He responded by saying "I really want to try it." Kat began harassing everyone she knew, her best friends, her parents, and even Josh's little sister Jenny. Everyone blew her off.
Over the week, Josh bought flowers for Kat almost every night, he also talked about the future a lot. Which again, is very out of character! Kat had many suspicions, but turned her head when she found out Josh was golfing before dinner. She always figured he would schmooze her all day before popping the big Q. Over the week, Kat worried about all of the white outfits she needed for their Catalina trip and of course, what color to choose for her mani, very important!
Fast forward to Saturday, October 1, 2016 - Kat worked out, got lost in too many episodes of Gilmore Girls, and got her nails done. She has a lot going on at work and was very moody. Also, everyone was ignoring her calls and texts, hmmmm! It was finally time for dinner and again, very out of character, the couple was running late. Kat remembers walking in on Josh in their guest bedroom "fixing his socks," but he made her so uncomfortable that she removed herself from the room…The two were late because Josh left his wallet in the house (haha). Dinner was wonderful, Kat ordered everything. They got sushi, paella, guacamole, margarita's, wine, and cheesecake…They were both so full afterwards and Josh asked Kat if she wanted to take a walk on the beach. Thinking nothing of it, she said yes.
As they were walking, Kat noticed what she thought was a vigil in the distance. There were people standing around and a ton of candles and roses, she asked Josh if he wanted to be nosey and see what it was. Of course, he said yes. The closer they got, the sooner she realized that what they were headed to wasn't a vigil at all, it was for her, JOSH WAS PROPOSING! To be honest, Kat blacked out, she was ugly crying. Josh got down on one knee and asked her the best question he has ever asked, she obviously said yes and they were then flooded by friends, family, and an amazing professional photographer that was hiding in the ocean taking our pics! (IG: @OllieNeglerio)
Big thanks to our moms for making Josh's vision a reality and to our friends & family who shared this unforgettable moment with us! Here are pictures from the proposal!
The Wedding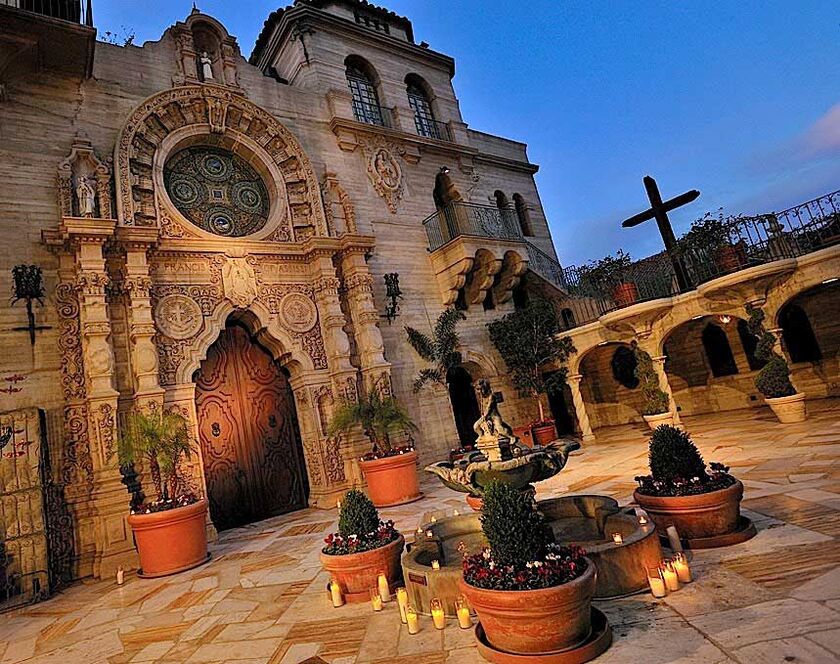 Friday, September 28, 2018
5:30 PM
Attire: Formal
Ceremony and Reception
Mission Inn Hotel & Spa
3649 Mission Inn Avenue
The hotel offers valet parking at $20 a day. You can find free parking near and around the venue. We recommend you come early as valet and parking gets backed up!